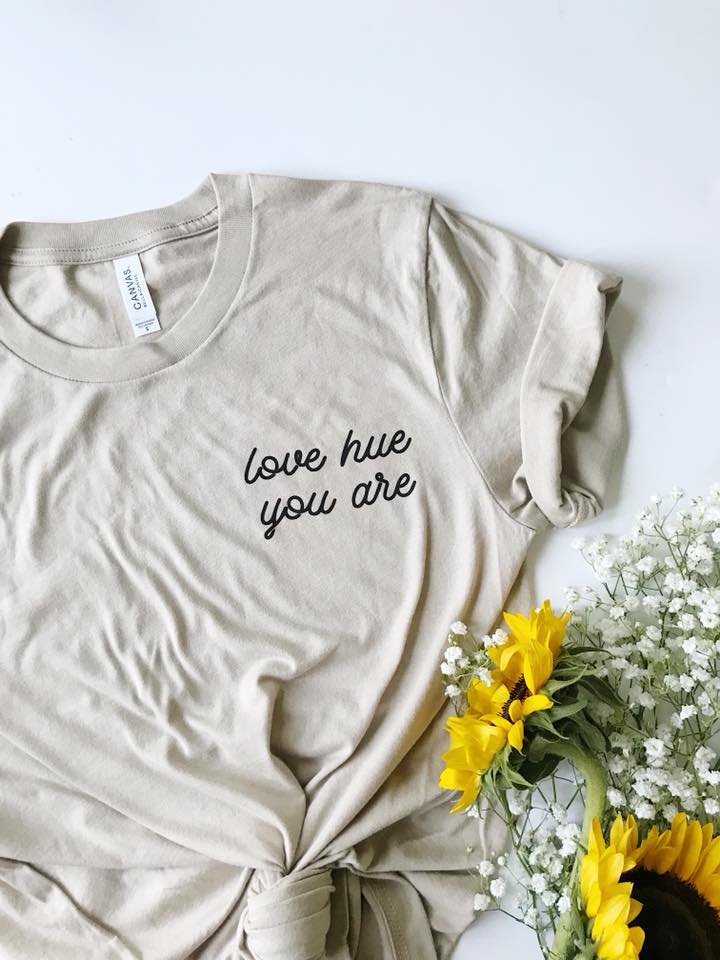 Love Hue You Are Shirt - Beige
Love Hue You Are
This t-shirt has been 33 years in the making, because loving 'hue' I am has never been easy. Adopted at the age of 5, I was brought into a white family and never felt like I was white enough, black enough, or Brazilian enough.
With elusive beauty ideals in this ever-changing world, the struggle for positivity is very real for both kids and adults alike. I want all of us to remember that no matter the color of our skin, the texture of our hair, or the family we are brought up in, we need to 'love hue we are.'
---
DETAILS: All our tees are made in partnership with a local printer! This means when you pre-order your tee, we place the printing request in with our neighborhood printer. Because we're committed to local, small, production, your tee will take ten days to produce — and then we'll ship it off to you ASAP!
COLOR OPTIONS (that represent skin tones) : Cream (shown)
SIZING: We use all UNISEX shirts from Bella + Canvas.
SIZE CHART:
XS - width 16.5" and length 27"
S - width 18" and length 28"
M - width 20" and length 29"
L - width 22" and length 30"
XL - width 24" and length 31"
2XL - width 26" and length 32"
POLICY:
WE DO NOT ACCEPT RETURNS OR EXCHANGES. All t-shirts are made to order so please choose your t-shirts, sizes, and colors carefully and be sure to message us with any questions. We cannot make any changes to your order once placed.
PROCESSING TIME: Each item in our shop is made to order, so please allow up to 10 business days for your order to ship. We will ship all t-shirts vi USPS Priority Mail Flat Rate (USA customers only), which have an estimate of 3 business days. If you need your item faster, please message us for rates.
If purchasing internationally, please message us for shipping costs. Time to receive your t-shirts may take up to five weeks
Learn Mor About Us:
- Read our farmhouse renovation story! http://folkandflora.com/2016/10/18/folk-and-flora-barn-raising/
- Subscribe to our Youtube Channel: https://www.youtube.com/channel/UCo4cU7jKRReZCbCci6WueiQ
- Follow us on Instagram: @folkandflora
- Follow us on Facebook: folk & flora